Strawberry Poke Cake
Prep 

15

 

MIN

Total

2

 

HR

 

0

 

MIN

Servings

12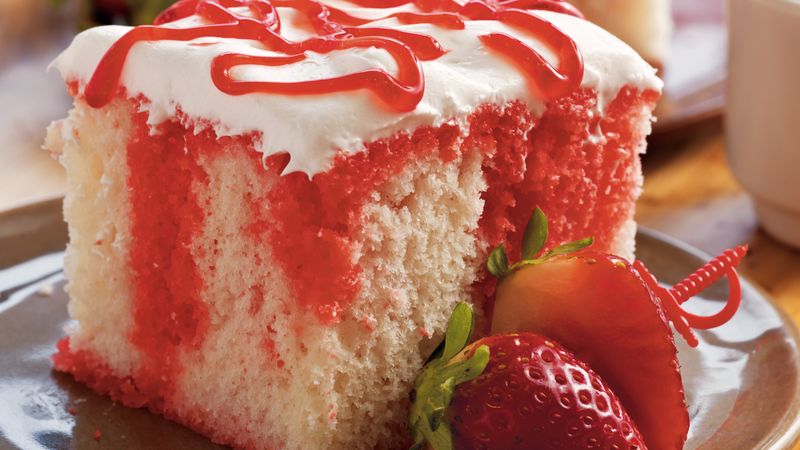 Ingredients
1 box Betty Crocker™ SuperMoist™ white cake mix  Water, oil and egg whites called for on cake mix box
1 cup boiling water
1 box (4-serving size) Jell-O™ strawberry-flavored gelatin
1 container (12 oz) Betty Crocker™ Whipped fluffy white frosting
1 tube (0.68 oz) Betty Crocker™ red decorating gel
12 fresh strawberries, cut in half
Steps
1: Heat oven to 350°F. Spray bottom of 13×9-inch pan with cooking spray. In large bowl, beat cake mix, water, oil and egg whites with electric mixer on low speed 30 seconds. Beat on medium speed 2 minutes, scraping bowl occasionally. Pour into pan.

2: Bake 28 to 32 minutes or until toothpick inserted in center comes out clean. Cool on cooling rack 20 minutes.

3: Meanwhile, in medium bowl, pour boiling water on gelatin; stir until gelatin is dissolved. Poke cake every inch with handle of wooden spoon or tines of meat fork halfway into cake. Carefully pour strawberry gelatin evenly over top of cake. Cool completely, about 1 hour.

4: Spread frosting over top of cake. Drizzle red decorating gel over frosting. Cut into 4 rows by 3 rows. Garnish each piece of cake with strawberries.